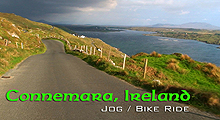 Just imagine... you could be training tomorrow in Ireland or Scotland or Maine or Dartmoor or Nova Scotia or along the Blue Ridge Parkway.
No more boring same-old, same-old training sessions. Just select one of our Biking Scenery DVDs or HD Downloads, and instantly you're feel like you're in the middle of beautiful County Galway, Ireland or.... you're biking beside Loch Etive, in the Highlands of Scotland on a clear spring morning.
We're traveling the world to film Bike Scenery DVDs just for you! We've already filmed Scenery DVDs in Dartmoor, England; Argyll, Scotland; Loch Etive, Scotland; County Clare, Ireland; Connemara, Ireland; Mahone Bay, Nova Scotia; and in the USA: Angeles Crest Highway; Natchez Trace Parkway; Maine's Mt. Desert Island; Hollywood Hills; Blue Ridge Mountains; and even more are on the way.
Now you can enjoy every minute of your indoor training session with these hour long DVDs and HD Downloads filmed in Widescreen and accompanied by the natural sounds - in Dolby Stereo - just as they were recorded on site.
---